Many people didn't need or weren't able to get braces as a child, but they may still have some spacing or crowding issues that prevent them from having a straight, gorgeous smile. Clear teeth aligners are custom made covers for the teeth manufactured with clear acrylic, and sometimes plastic material that gently shifts teeth into their proper position. Using a series of aligners over 1 - 2 years, clear teeth aligners can correct moderately crowded teeth and spacing problems for straighter, healthier teeth. This type of orthodontics are generally preferred by adults over traditional metal braces since they are unnoticeable and can be taken out for brushing, flossing, and eating. Our dentists at DentalWorks - Fairlawn in Fairlawn, OH can go over teeth straightening options, including clear teeth aligners during regular dental exams.
Reviews
"Amazing service all around, Dr. Solooki is fantastic!"
- A.A. /
Google /
Jul 12, 2019
"Love this place! Office very modern, always clean. Have a thing about public 🚻 not here so very clean. Staff always helpful, professional and thorough.Thank you D. D. S Solooki and staff.Marty"
- M.E. /
Google /
Jul 09, 2019
"This was my first time back to a dentist in over ten years. As a child I was taken to a clinic and a painful mistake was made which terrified me even to this day! I let them know up front before I came to my appointment. The staff was all extremely nice and polite about my fear! They made sure to explain every single thing they did to help keep me calm. Even after battling with my insurance for 45 minutes not one single employee was rude to me! I will happily be returning for all my dental needs and referring anyone I can to this office!"
- J.P. /
Google /
Jun 14, 2019
"Solid work, good people. Been a patient there for 10 years."
- T.L. /
Google /
Jun 11, 2019
"Able to get next morning appointment online for a new patient. Friendly and efficient staff. Only a short wait time despite multiple patients in office. Dentist listened to concerns, discussed treatment options, and took care of my broken tooth quickly and painlessly."
- L.C. /
Google /
Jun 06, 2019
Previous
Next
Every set of clear aligners are custom made depending on the individual's current teeth position. Each tray of aligners are created based on impressions, X-rays, and images. The patient will be given 3 - 4 sets of aligners at their appointment and our dentists will ensure that the initial set fits as they should so that adjustments can be made. Our clients should wear their aligners as often as possible. The aligners should be taken out for eating and brushing. After several weeks, new aligners will be given during a quick appointment at DentalWorks - Fairlawn.
The amount of time that an individual has to wear each set of aligners will vary based on the unique needs of each person. The number of trays needed is generally discussed by our dentists at the consultation. the aligners will be worn consistently until the teeth are in proper alignment. Assessments at DentalWorks - Fairlawn will be given at each appointment so that the progress can be assessed. Our dentists will assist patients so they have a full understanding of the ongoing progress. After the teeth are straight, a retainer will be set on the teeth for lasting results.
Based upon the patient's dental insurance, some of the clear teeth aligners may be covered. Our dental office at DentalWorks - Fairlawn will communicate with the patient's dental insurance provider to confirm their benefits and provide a better cost of the patient's expected fees. Patients who do not have insurance coverage for teeth straightening treatment, may evaluate DentalWorks - Fairlawn's various payment options.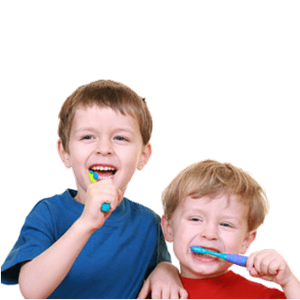 Adults and teens in the Fairlawn, OH area who wish to have teeth straightening may consider clear teeth aligners at DentalWorks - Fairlawn. Created for individuals with teeth crowding and space problems, teeth aligner trays from DentalWorks - Fairlawn can gently repair these issues. Moreover, patients no longer have to concern themselves with the look and feel of regular braces. Talk with our dentists and get your options for gorgeous, straight teeth.
Related Procedures