About Fluoride Treatments
There are adults and children who don't follow a good dental care routine and this can cause a lifetime of infections and cavities. To improve weakened or developing teeth, a special fluoride treatment may be given at DentalWorks - Fairlawn by our dentists in Fairlawn, OH to remineralize and strengthen the dental enamel. Fluoride is a naturally-occurring mineral that is usually added to city water systems. In addition, it is also in many dental care products in small amounts to strengthen the teeth. A professional fluoride treatment at DentalWorks - Fairlawn uses a safe, but strong dose of fluoride to guard the teeth against decay. Fluoride treatments can be administered in three forms (gel, foam, varnish) with two different kinds of fluoride. This includes neutral sodium fluoride for those who have dry mouth and dental work or acidulated phosphate fluoride for normal teeth.
Reviews
"Amazing staff!"
- M.B. /
Google /
Feb 23, 2019
"A great team working with a very nice Dr. Soolooki"
- H.T. /
Google /
Feb 20, 2019
"I was very satisfied with my visit. All of my questions were answered and I was given a detailed report on options for replacing a missing tooth."
- R.S. /
Google /
Feb 12, 2019
"Dr. Solooski and his staff at DentalWork in Fairlawn are awesome! They are very professional, friendly and helpful. Dr. Solooski has been taking care of my family dental health for 20 years now. I brought my 88 years old mom in for him to do her bridges and mom is very happy with her bridges. Before she had her bridges, she had 7 teeth removed and she had no issues or much swelling after the surgery. The surgeon who removed her teeth, Dr. K did an excellent job. Highly recommend Dr. Solooski!! :)"
- T.P. /
Google /
Feb 01, 2019
"I have been a patient for 5+years and have always received exceptional care and service. Every staff member has been professional, courteous, knowledgeable and kind. I am always confident I am in good hands and never feel pressured even when additional services are recommended. I am not always the best with my home care routine (flossing, etc) so I appreciate the reminders to get me back on track. I recommend this practice!"
- K.B. /
Google /
Jan 21, 2019
Previous
Next
Fluoride treatments are frequently given every six months after the patient's dental exam and cleaning or as often as our dentists suggest. The clean teeth are dried to prevent watering down the concentration of the fluoride, then the treatment is given to the patient as a gel, foam, or paint-on varnish that is applied for a few minutes. To make fluoride treatments more pleasant, our dentists will usually include a flavor chosen by the patient. Once the fluoride treatment is finished, patients should be certain to spit all fluoride out of their mouth to avoid negative reactions after the fluoride treatment.
To confirm the fluoride treatment completely treats the teeth, patients should not eat, drink, or smoke for at least half an hour after their fluoride procedure. Consuming any of the fluoride may lead to short-term stomach aches, but this should not last more than a day. While fluoride can be toxic in large amounts, our dentists are careful to give each person an appropriate amount of fluoride during their treatment at DentalWorks - Fairlawn.
Professional fluoride treatments are considered a proactive procedure and are often paid for by insurance for younger patients who are 6 months - 16 years old two times a year as their teeth are forming. Insurance coverage for a patient over 16 who gets a fluoride treatment differs, so DentalWorks - Fairlawn will check the patient's policy benefits and calculate their out-of-pocket costs. For patients who don't have dental insurance coverage, DentalWorks - Fairlawn offers many payment options and financing plans.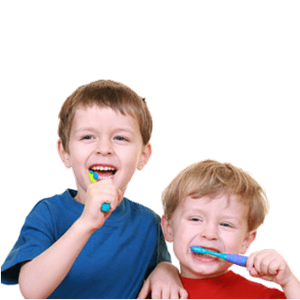 To improve younger patient's growing teeth or adults who often get decay, a thorough fluoride treatment following a dental cleaning and exam at DentalWorks - Fairlawn can protect and strengthen the teeth enamel. Ask our dentists about the value of fluoride treatments in DentalWorks - Fairlawn's Fairlawn, OH office and prescription fluoride treatments for at home. This will help to remineralize the dental enamel and minimize the possibility of decay and cavities for improved dental health.
Related Procedures